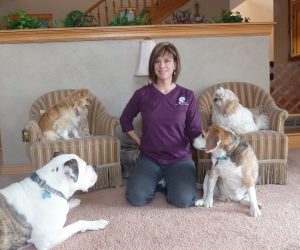 Carie Grant
Carie Grant graduated with distinction from the prestigious Karen Pryor Academy for Animal Training and Behavior. Trainers from around the world travel to attend Karen Pryor's Academy because it is recognized globally as the gold standard in dog training. The Academy's rigorous program produces inspired trainers who get results: they possess both a solid knowledge of the science that governs learning, and expertly honed practical abilities in both training animals and teaching other people to train animals.
Carie is committed to remaining on the cutting edge of the most effective science-based methods available. She regularly takes advanced education in such topics as leash reactivity, fears and phobias, solutions for barking dogs, and inter-household aggression between multiple family dogs. She has attended seminars of internationally recognized presenters such as Patricia McConnell, PhD; Debbie Martin, RVT, VTS, CPDT-KA, KPA-CTP on assisting dogs with deep Separation Anxiety; Grisha Stewart's Behavior Adjustment Training for Aggression, Frustration and Fear; and the powerful program on Understanding and Preventing Canine Aggression by Julie Shaw of Purdue University Animal Behavior Clinic.
Credentials
Carie Grant, KPA-CTP
Dog Behavior Specialist
Graduate with Distinction, Karen Pryor Academy for Animal Training and Behavior
Past Advanced Trainer, Canine Partners of the Rockies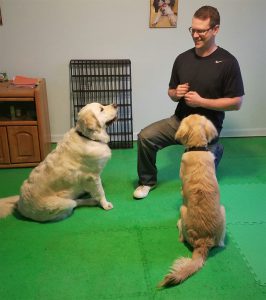 Dan Grant
Dan Grant has completed Karen Pryor Academy foundational coursework, as well as a lengthy apprenticeship with Carie. He manages puppy socialization events, and teaches both private and semi-private Basic Manners classes. His solid understanding of learning theory combined with an intuitive and engaging style of teaching led to the nickname given to him from one his students: "Sensei".
Dan is expert at bringing shy, fearful dogs out of their shells, as well as helping bright, enthusiastic dogs learn to relax and focus on the task at hand. On the human side, he is interested in more than just training the "sits" and "downs". He gives clients the skills to continue improving long after they have left the training room. He coaches individuals as well as families – and is always excited to see kids show interest in training the family dog.
Credentials:
Lead Obedience Trainer
Association of Professional Dog Trainers – Professional Member
The Team
The team at Denver Dream Dog partners with an elite group of top Denver trainers, vet professionals, and animal behaviorists — each with their own particular specialties. When you come to Denver Dream Dog, you have arrived at a one-stop shop to support your dog training needs, from early puppy socialization and basic obedience, to reversing canine behavior problems, to solving really challenging issues that might require pharmacological treatment, alternative healing methods, and/or deep behavioral therapy.