Are you leaving town and would like to have your dog professionally trained and cared for while you are gone?
Does your dog need to learn good house manners, but you just have too much on your plate right now?
Do you have a new puppy but the work schedule keeps you from providing the training he needs?
Then Denver Dream Dog's Board & Train program is the perfect solution for you!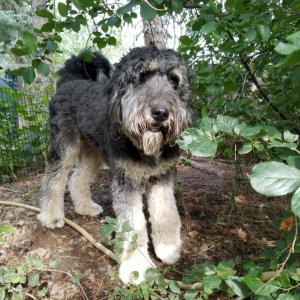 Your dog will come to live with either Dan Grant or Carie Grant in our homes as our own, and we focus daily on the training goals we have set. The work is demanding but the environment is fun as there are usually several other dogs to romp and roll around with. Your dog will have individual training throughout the day, as well as training with the other pups in a group.
Skills covered
teamwork
attention to handler
polite public appearances
good communication
strong self-control
sit, down, stay in both positions
loose leash walking
coming when called
learning to self-calm
how to "leave" something on cue
targeting
Because it is essential that you as your dog's owner are equipped to maintain what your dog has learned, two follow-up sessions are included in the tuition.
Transfer Session: At the end of the 2-Week Board & Train period, you and I will spend an hour together with your dog learning how to maintain and grow your pup's new skills.
Two-Week Follow Up: You, your dog, and I will engage in a second follow-up two weeks after Board & Train has ended.
Bonus: You receive a 15% discount on any other Denver Dream Dog training for your dog's lifetime!
Board & Train Pricing:
Adult Dogs
2-Week Board & Train: $1200
Your dog will typically have learned all of the above, and will probably have 3-4 "specialties": behaviors with strong reliability even in the presence of distractions. He will be very familiar with the other behaviors as well, but will likely only be able to do them in a quiet home setting.
4-Week Board & Train: $2200
Your dog typically will have learned ALL of the above, and will be able to perform them in challenging areas and under distraction.
Puppies
Pup Start Pricing, for puppies 8 weeks – 14 weeks of age:
The emphasis in the Pup Start program is in house training — a common challenge for new puppy owners! In addition to supporting good elimination habits, we help the pup learn to curb puppy nipping, to practice appropriate chew habits and very basic manners. In addition, your pup will have the opportunity to attend at least one Puppy Party where he will socialize and have fun with other puppies his age!
7 Day Pup Start: $770. (Minimum.)
10 Day Pup Start: $1050. (Recommended.)
Please note: To keep other dogs in my care safe, Board & Train is not a suitable option if your dog has issues around aggression or reactivity toward other dogs. I can support you with any problem areas for your dog via private instruction in your home.
Also:  If you're interested in *just boarding with no training*, read here about the Denver Dream Dog Hotel.)