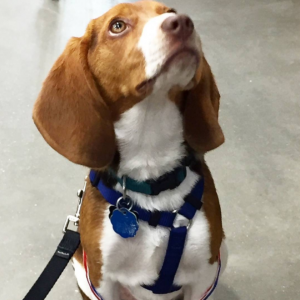 Dogs don't live in training rings in Big Box stores. They live in real homes. This class teaches a solid set of obedience skills where they are needed most:  either in your home, or in our home-based environment. Your dog needs to work with real life challenges he will face at home like ringing doorbells, tempting counter tops, visitors entering, and passing a squirrel in a tree on a walk outside.
Taught by Dan Grant, Lead Obedience Instructor, this class fosters teamwork, attention & focus, good communication and strong self-control. 
Questions?  Contact the instructor:  Dan@DenverDreamDog.com
Request an Obedience Training Session
You can choose what fits your life and budget best: Private sessions (in your home, or at our location); semi-private classes; OR if you'd like a professional to do the heavy lifting for you, take advantage of our 2- or 4-Week Board & Train programs. We even have a Pup Start Board & Train program just for puppies!
Check my service map to ensure you are in our service area.
The curriculum includes:
sit, down, stay
coming when called
door greetings
loose leash walking
"leave it"
learning to self-calm
Pricing Options and Details
Private Instruction:
$375 in your home or $275 at my location.
5 in-depth, 50-60 minute lessons spaced 1-2 weeks apart. Because we are working one-on-one, we can tailor our focus to the needs of your specific dog.
Single Tailored Session:
$80/class in your home or $60/class at my location.
Single obedience sessions to brush up on skills or cover just a few behaviors, designed for those who are unsure if their dog needs a whole package.
Semi Private Class:
$180 at my location. Saturday mornings when time slots are available.
5 small group lessons, one hour long. This class has a modular structure, meaning that you can start as soon as there is an opening, and take the classes in any sequence. Semi-private means instruction is still very individualized.
$50 for half day of daycare with obedience training.
to extend your dogs stay for a full day of daycare is only an additional $10 or to add polite leash skills is an additional $10.
2- or 4- week board and train packages to focus on your desired training goals while they board.
Pup Start packages to work on in house training like elimination behavior, nipping, and basic manners while boarding.