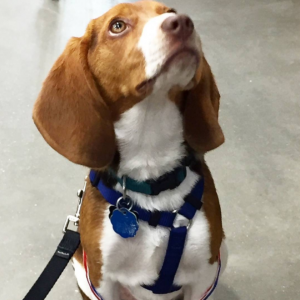 Dogs don't live in training rings in Big Box stores. They live in real homes. This class teaches a solid set of obedience skills where they are needed most:  either in your home, or in our home-based environment. Your dog needs to work with real life challenges he will face at home like ringing doorbells, tempting countertops, visitors entering, and passing a squirrel in a tree on a walk outside.
Taught by Dan Grant, Lead Obedience Instructor, this class fosters teamwork, attention & focus, good communication and strong self-control. 
Questions?  Contact the instructor:  Dan@DenverDreamDog.com
Schedule an Obedience Training Session
You can choose what fits your life and budget best: Private sessions (in your home, or at our location); semi-private classes; OR if you'd like a professional to do the heavy lifting for you, take advantage of our 2- or 4-Week Board & Train programs. We even have a Pup Start Board & Train program just for puppies!
The curriculum includes:
sit, down, stay
coming when called
door greetings
loose leash walking
"leave it"
learning to self-calm
Pricing and Details
Private Instruction:
$375 in your home or $275 at my location.
5 in-depth, 50-60 minute lessons spaced 1-2 weeks apart. Because we are working one-on-one, we can tailor our focus to the needs of your specific dog.
Private Instruction Auditing:
$80/class in your home or $60/class at my location.
Single obedience sessions to brush up on skills or cover just a few behaviors, designed for those who are unsure if their dog needs a whole package.
Semi Private Class:
$180 at my location. Saturday mornings 10:30am-11:30am and 11:45am – 12:45pm.
6 small group lessons, one hour long. This class has a modular structure, meaning that you can start as soon as there is an opening, and take the classes in any sequence. Semi-private means instruction is still very individualized.